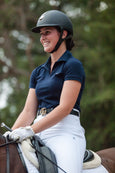 The Polo
$69.00 AUD
A touch of class meets The Polo. This fitted polo top is a must have!
The Polo features
100% super soft cotton with stretchy elastane for maximum comfort and freedom of movement.
Striped collar: wear it down or wear it up to keep the sun off your neck (or when you mean business)
Embroidered Tribe X icon with Tribe Equestrian logo embroidery on the back.
Ethically Made.
The Polo runs true to size